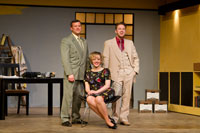 Speed-The-Plow is one of several successful plays Mamet has written about the business world. Filled with his trademark, rapid-fire dialogue, it focuses on the ruthless nature of Hollywood and the movie industry. With Mamet's superb use of dialogue and taught plotting the seemingly superficial depiction of two Hollywood producers looking for a big break finds deep meaning.
Speed-The-Plow contains adult language,
and is recommended for mature audiences.